It was a huge day for us as host club today at the State Cross Country Titles at Toogoolawah Golf Club.
The Weather Bureau claims it was only 24.5 degrees at Toogoolawah today but with the addition of a tough grind up the hill it sure seemed a lot hotter than that. The hard conditions under foot and fast downhill start also also caused issues for a few runners.
Our medal winners were:
Gold
Under 10 Boys 1k – Elliott Stannard
Under 14 Boys 3k – Tate Van Camp
Silver
6 years Girls 1k – Kitty Stannard
Bronze
6 years Girls 1k – Sophie Hurley
60 plus Years Women 6k – Lynda Bateson
Also great to see Tom Burrows claim the Para 3k Gold Medal for the third year in a row.
Certainly a brilliant finish by Tate again in the last race of the day and he was also chuffed to receive a gift from Don Stapleton in the form of a signed copy of a Steve Moneghetti book on running. Don obviously believes that the story of Steve's approach based on Patience and Commitment can be helpful to a youngster on the rise like Tate.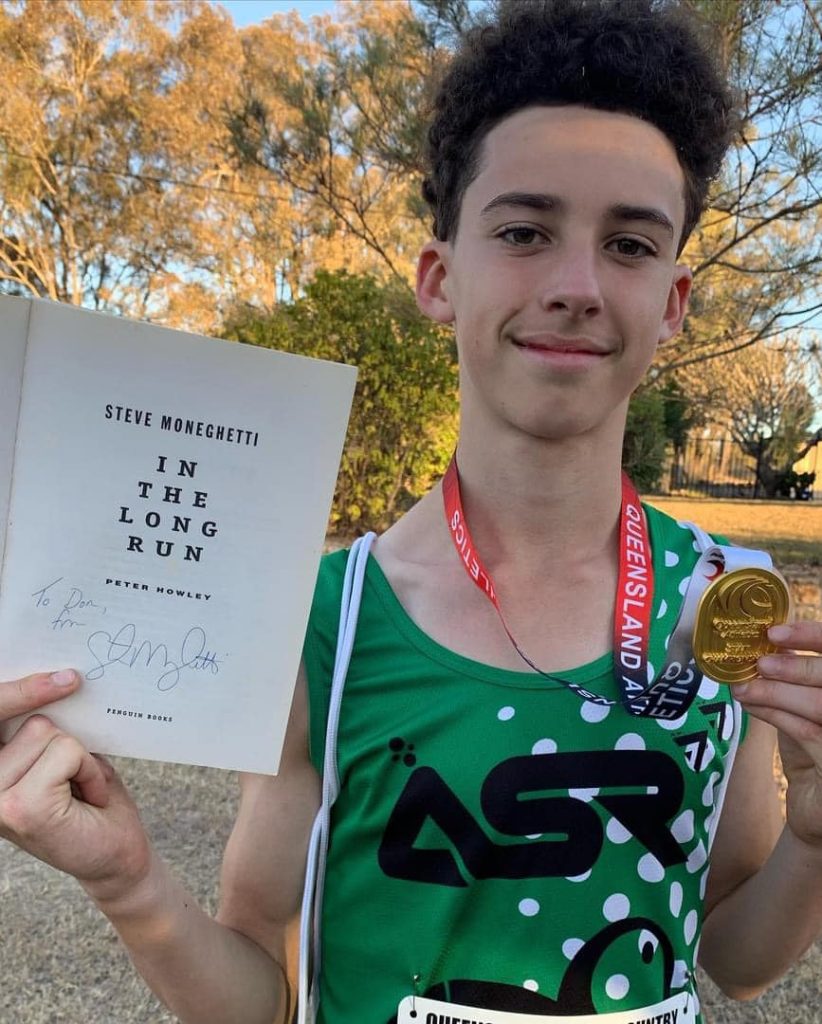 Certainly today I think we had a raft of promising youngsters on the rise competing and although enduring the usual trials and tribulations of being in the arena with blood, sweat and tears, nobody can doubt the commitment and grit that they showed.
The effort and energy from our helpers was also huge – a very big thanks goes to;
Bec Torrens
Lynda Bateson
Rhiannon Walker
Ildiko Keogh
Bec Bray
Heather Barralet
Theres Schulze
Mark Schulze
Don Stapleton
Don Wallace
Ken Hastie
Russell Boyd
Rob Hurley
Dan Murray
Graham Barralet
Duck Dunstan
Finally we would like to acknowledge the efforts of Queensland Athletics, the officials, other clubs, all parents and athletes in helping make today a great event.
Cross Country is crucial in the development of the necessary mobility, speed, stamina and courage required to make it to the top across all forms of distance running and today's event certainly ticked those boxes.
Finn O'Keefe in action in the Open 10k at Toogoolawah.
Congratulations to Zel Van Loggerenberg who finished fourth at Toogoolawah in the 13 years 3k and is off to Canberra for the National Cross Country at Stromlo Forest Park on Saturday 26th August.
The experience in already having run a course with kangaroos on it will also be useful to Tom Burrows representing Queensland in the Para 3k.
Lara Wannenburgh has also been added to the Queensland team for the 15 years 4k at the National Cross Country.
What a great effort by the debut season runner from Ferny Grove High School.