Not sure many Gold Medals at QE2 have been as hard-earned as this one – Tate Van Camp after running 1:59.7 to take the Meet Record in the Under 14 800m.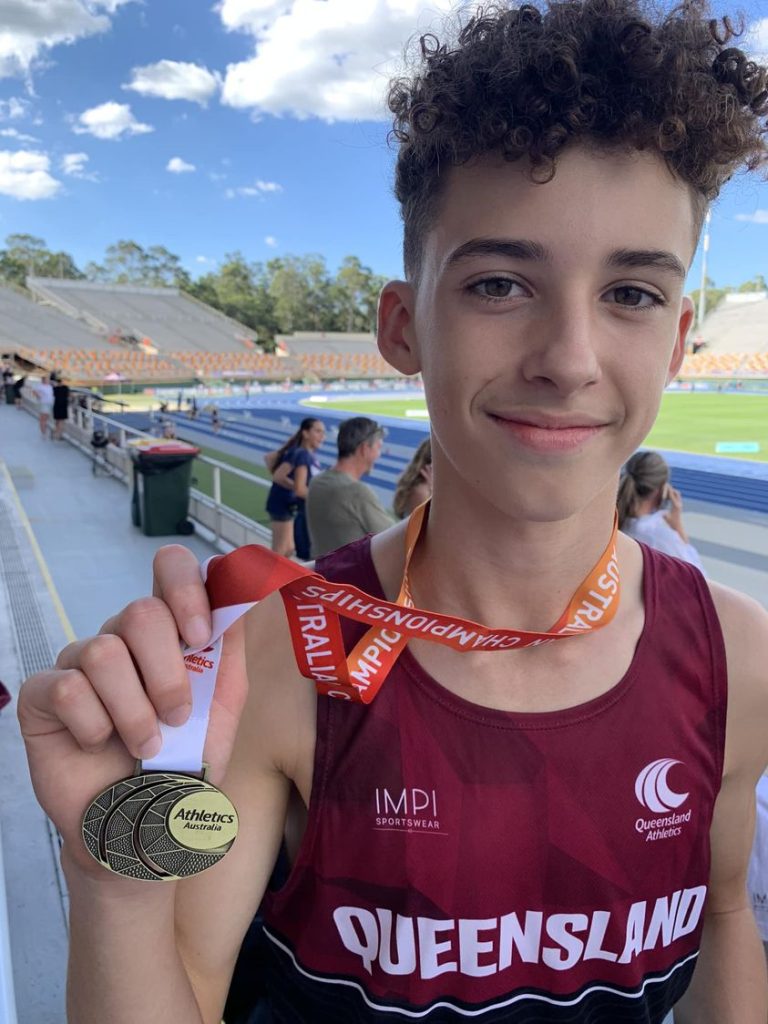 It was an epic battle with Wollongong's Harry Keats which saw Tate fight back tremendously when challenged in the home straight with the local crowd 'blowing the roof off the grandstand' to get him home in the words of the stadium and livestream commentator.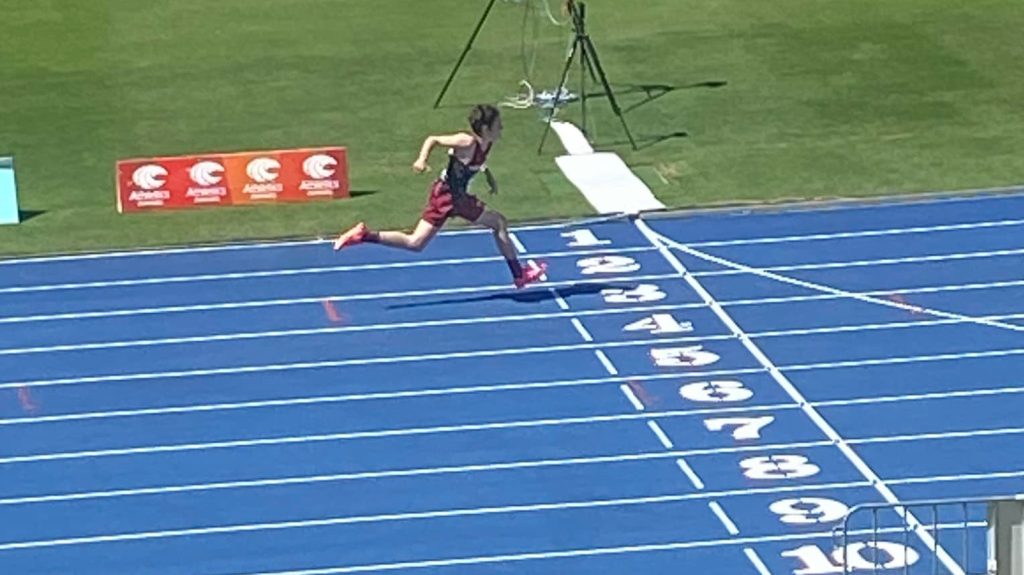 It was a big win to Shea Caminiti well ahead of his rivals to take Gold in the Under 13 90m Hurdles in 15.50 in today's action at the Junior Nationals at QE2.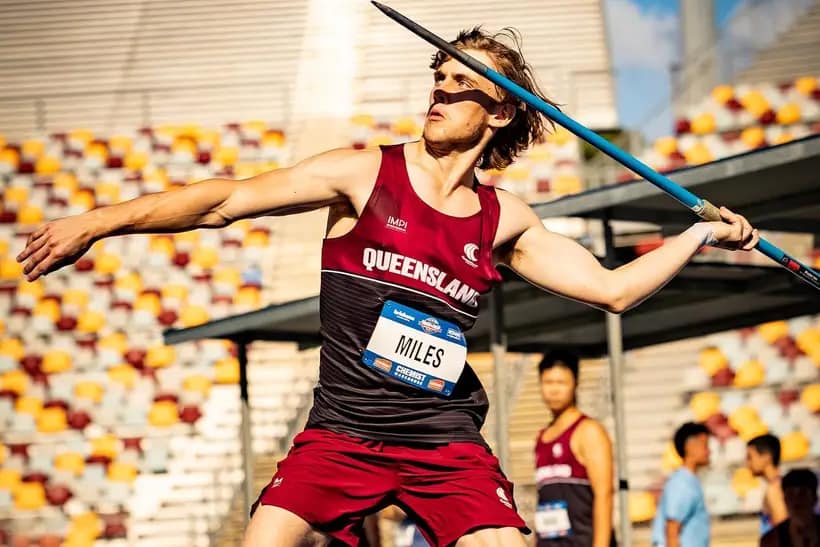 Competing at Junior Nationals can be a tough gig for anyone but it's even tougher when you set yourself the challenge of adding an extra Pole Vault and Long Jump as well on top of a Decathlon.
That's what promising decathlete Cristian Kuenzel achieved this weekend finishing 5th in the Under 18 Decathlon with points with 10 Decathlon PBs and then finishing 11th in the Under 18 Pole Vault with 3.30m and jumping 5.90m in the Under 18 Long Jump.
Tate Van Camp added another 1500m Gold in the Under 14 1500m in 4:18.04 taking things a bit cruiser after yesterday's epic 2-man war with Harry Keats in the 800m.
Chloe Griffin is placed mid-field in a strong bunch of contenders after a Shot Put PB on Day One of the Under 18 Heptathlon.
Joel Drew qualified for the 400m Hurdles Final in 55.31.
In other results, Jonah Miles was 13th in U17 Javelin in 44.92m, Sam Brassington 8th in U18 Javelin in 53.98, Lee Martin 15th in the U18 Discus in 32.47m, Isaiah Burgess 9th in U17 Shot Put with 12.17m and in U14 1500m, Zel Van Loggerenberg was 16th in 4:56.50 and Laura Bray 29th in 5:20.98.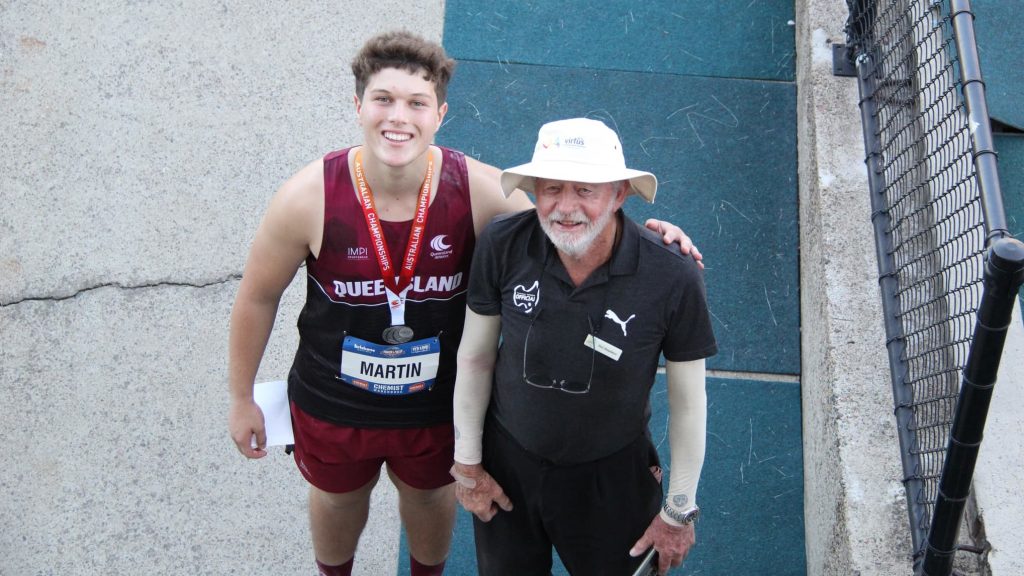 Lee Martin with Official and original club member from 1962 Don Stapleton after Lee claimed the Silver in the Under 18 Shot Put at Junior Nationals today at QE2 with a 16.21m throw.
Everyone who was at the Ashgrove Rangers 60th Anniversary last October will recall the moment where Don who officiated at a home Olympics in Sydney in 2000 challenged Lee to also have a crack at being part of a home Olympics in 2032.
Not quite sure how that will turn out as he might find even better things outside of athletics by then but so far Lee has made a cracking start also winning the U17 Shot at the Australian All Schools in Adelaide in December.
Today's throw was a 41cm PB and a new Marist Ashgrove School Open record.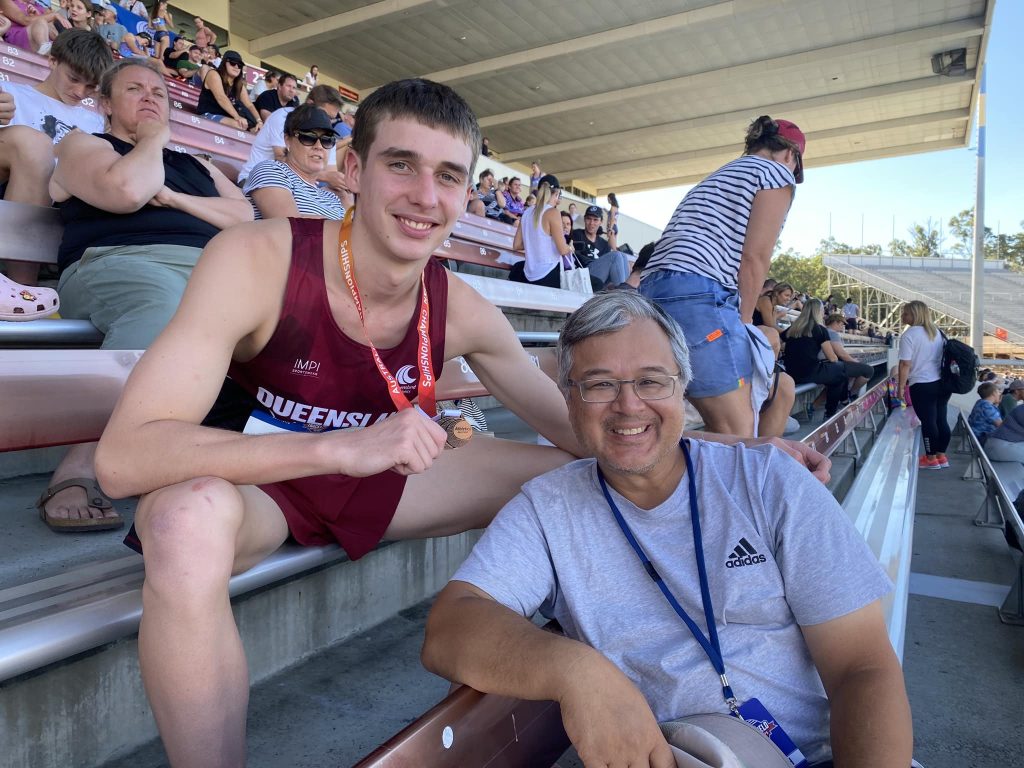 Joel Drew and coach Robin Martin after Joel was able to produce one of the most courageous runs in club history to snare the Bronze in the Under 18 400m Hurdles in a PB 54.21 recovering from the disappointment of hitting the 6th Hurdle when in a strong position in the 110m Hurdles Final.
The way the programme was set up, it was obviously presumed that nobody would dare attempt such a difficult Hurdles double within the space of a couple of hours but Joel stormed home for a medal in a race where the Australian record fell.
Jonah Miles competing in the Under 17 Javelin yesterday at Junior Nationals at QE2 finishing 13th with 44.92m.
Chloe Griffin completed a consistent competition with 12th in the Under 16 Heptathlon.
In the Under 18 5k Walk which strangely was programmed to start in the heat at 10am, Katie Bray performed very well to record a time of 31.56.63 for 15th place.
Aidan Dallinger recovered after a first round foul to record 12.60m in the Under 18 Triple Jump – not a PB but a good effort by one of our most consistent athletes.
Certainly this has been our most successful season at National level ever both in terms of participation and medals so a big thanks to everyone involved.
Medals through the season went to:
Primary School Nationals – Brisbane, November
Tate Van Camp – 3 x Golds/Meet records (12 years 800m/1500/Relay (300m leg))
National All Schools- Adelaide, December
Lee Martin – Gold (U17 Shot Put)
Joel Drew – Silver (U17 400m Hurdles)
National Seniors – Brisbane – March/April
Connor Duggan- Silver (U20 Decathlon)
Tiana Solley – Bronze (Open Heptathlon)
National Juniors – Brisbane – April
Tate Van Camp – Gold (U14 800m Meet record, 1500m)
Shea Caminiti – Gold (U13 90m Hurdles)
Lee Martin – Silver (U18 Shot Put)
Joel Drew – Bronze (U18 400m Hurdles)
Bottom line is that the level of interest in Track and Field has never been this high and the performances have never been better and this looks set to continue through to 2032.
A big thanks to all the athletes, parents, officials, coaches and other clubs who made it all possible for us.
In a nutshell, the good old days are right now!