Newcomer Josh Jones grabbing a silver in the 10 years Shot Put at the Primary titles with a 10.95m PB and Haiden Boyd Gold in the Secondary Schools 13 to 15 years 4 x 100m event. After only a year in the sport, Haiden also made the 15 years 100m Final with a 0.29 second pb of 11.36.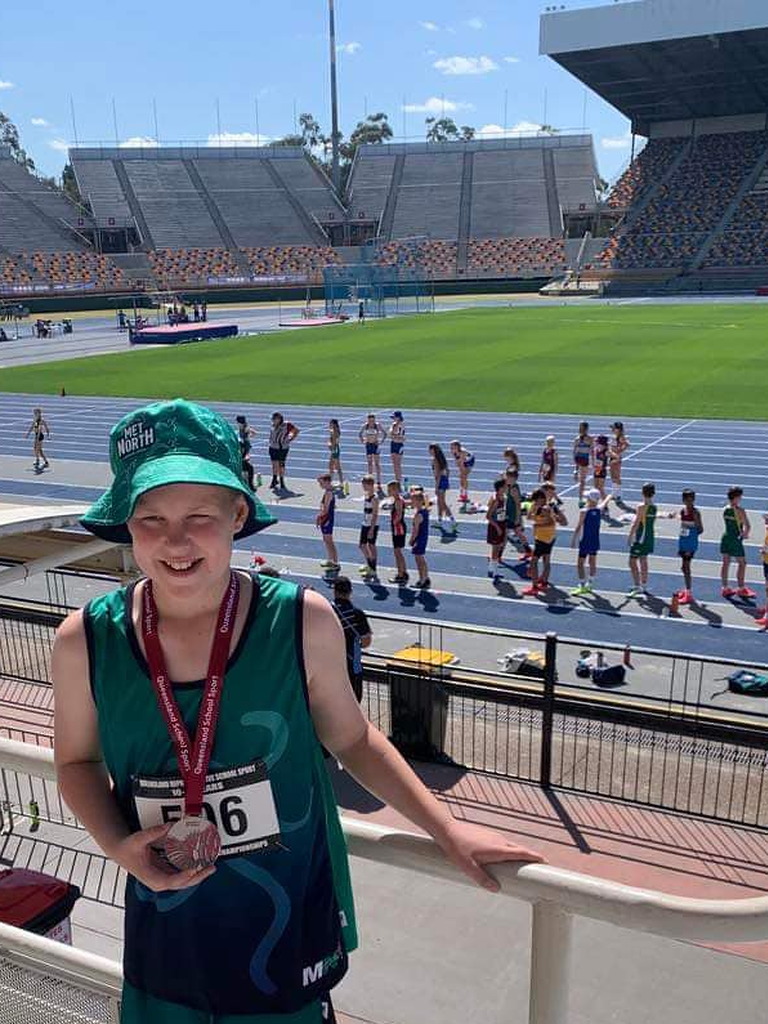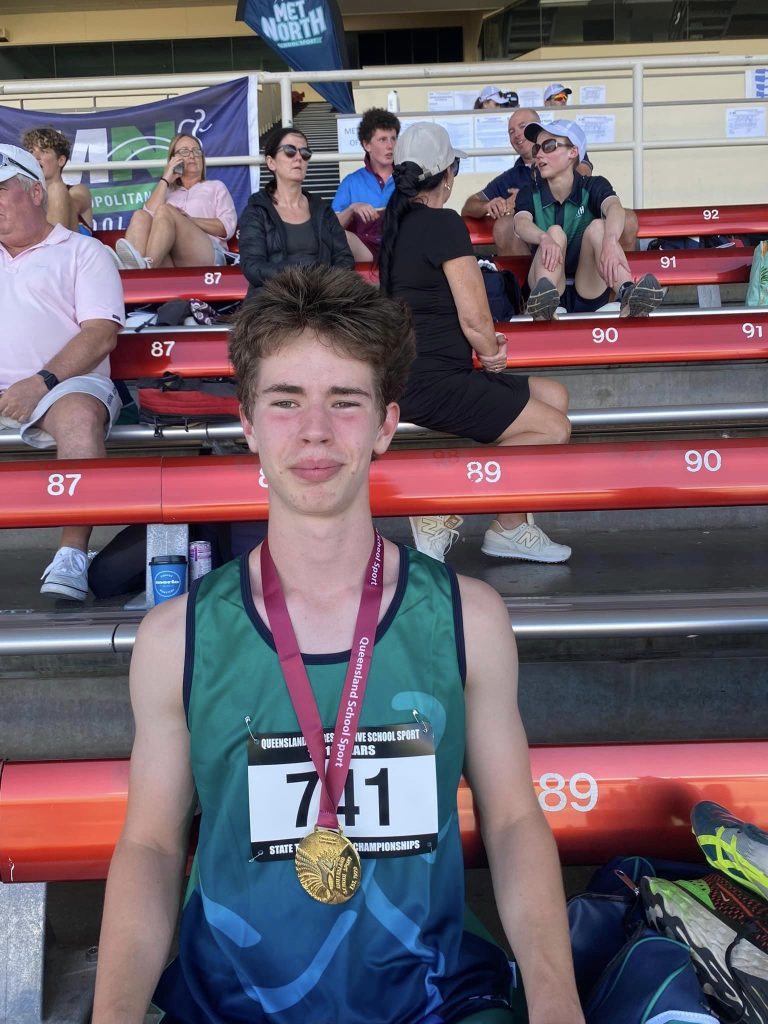 Lee Martin took the 17 years Shot Put Gold with a very impressive 16.62m.
A terrifically brave comeback by Joel Drew from serious illness only a couple of months ago culminated in a 17 years 400m Hurdles Gold Medal today in a time of 56.75 at the Qld Secondary Schools Championships today at QE2. Marist Ashgrove team mate Connor Campbell took Silver in the 14 years 200m Hurdles in a Time of 28.54.
Also in the medals with a Bronze in 17 years Javelin was Cristian Kuenzel with a throw of 51.20m.
There were cold conditions with a headwind for the 100m Finals with excellent 5th placings to both Haiden Boyd (15 years) and Aidan Dallinger (17 years).
Other Field event highlights have included a 5th to Lee Martin 17 years Discus in 45.82m, 7th in 1.88m in 17 years High Jump to Cristian Kuenzel and 9th in 1.85m in the same event to Ben Caughley, 11.16 for 13th in 14 years Triple Jump to Ethan Dallinger, 6.45m for 5th 17 years Long jump to Cristian Kuenzel and Grace Dickson 10th in 16 years Discus with 29.65m.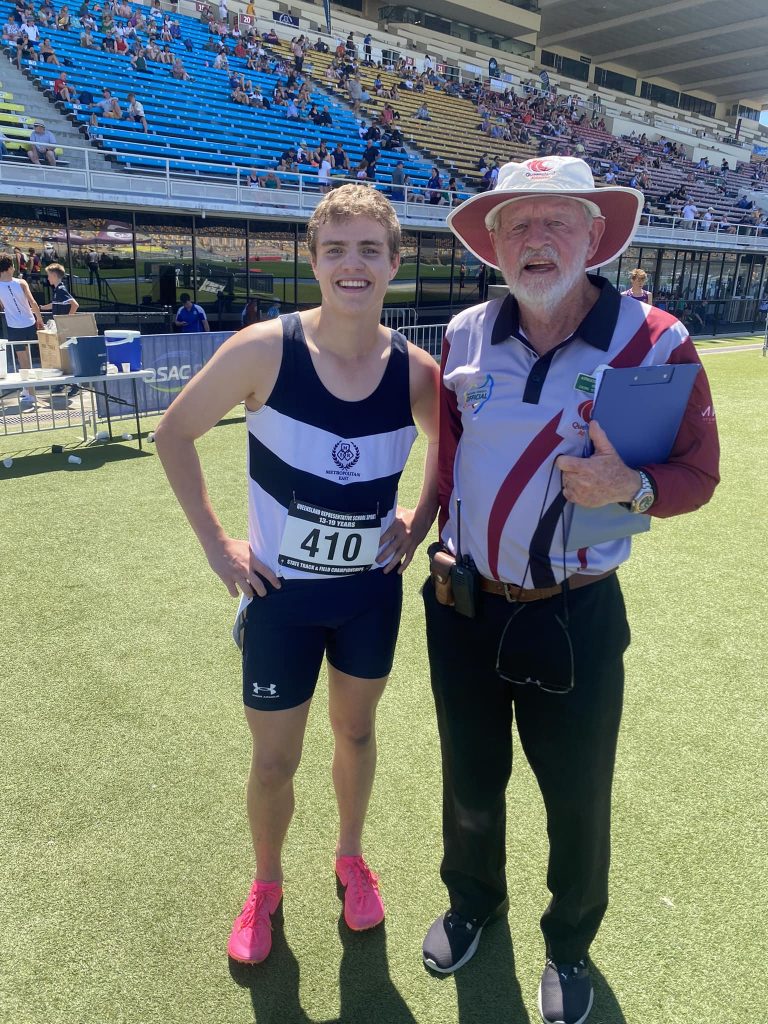 Brutally hot conditions and a 61 second first lap equal to his 400m Pb didn't stop a determined Sonny Adam from making the 15 years 1500m Final in a Pb of 4:12.64 at the State Secondary Schools at QE2 today. Sonny is congratulated here by Don Stapleton, one of the many Officials who helped ensure a successful 10.5 hour programme today with two days still to go.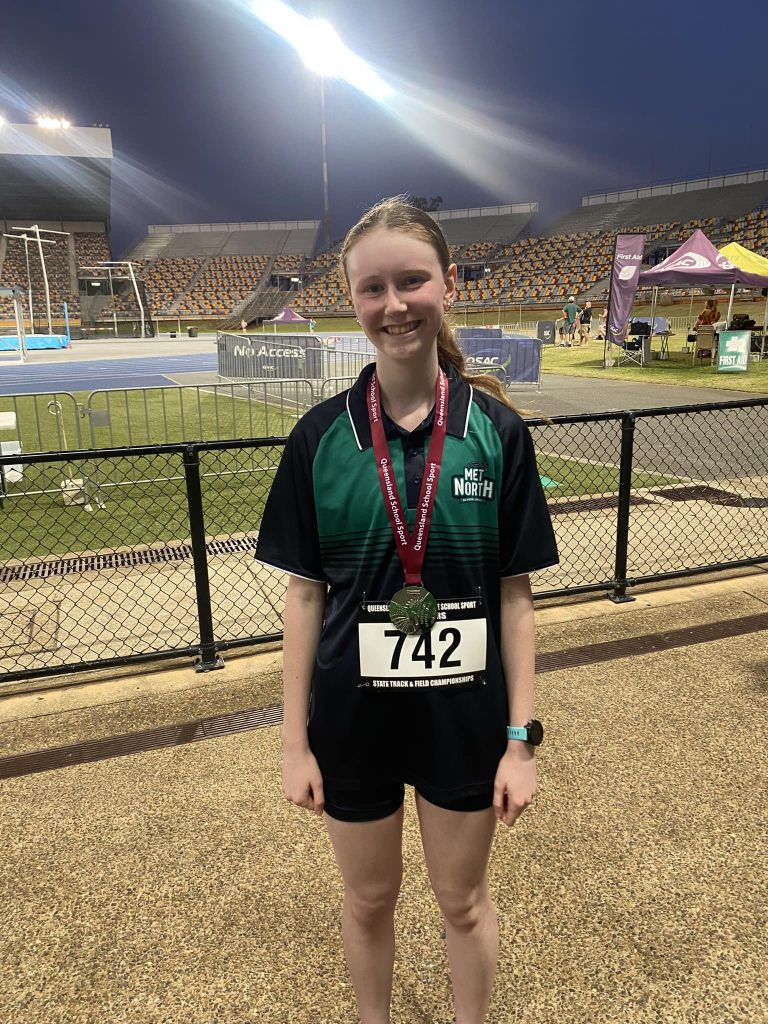 The day 3 haul included five medals with Tate Van Camp claiming Gold In the 13 years 800m with a cruisey 2:05.68, Silvers to Aidan Dallinger in the 17 years Triple Jump with 13.55m and Katie Bray 17:20 in the 3k Walk and Bronzes to Zel Van Loggerenberg with a huge PB of 2:15.96 and Cristian Kuenzel 3.30m in the Pole Vault.
Kristina Kersten also did well for 8th in the 15 years 800m final in 2:27 after an amazing 2.22 to get there when second in her heat on Thursday.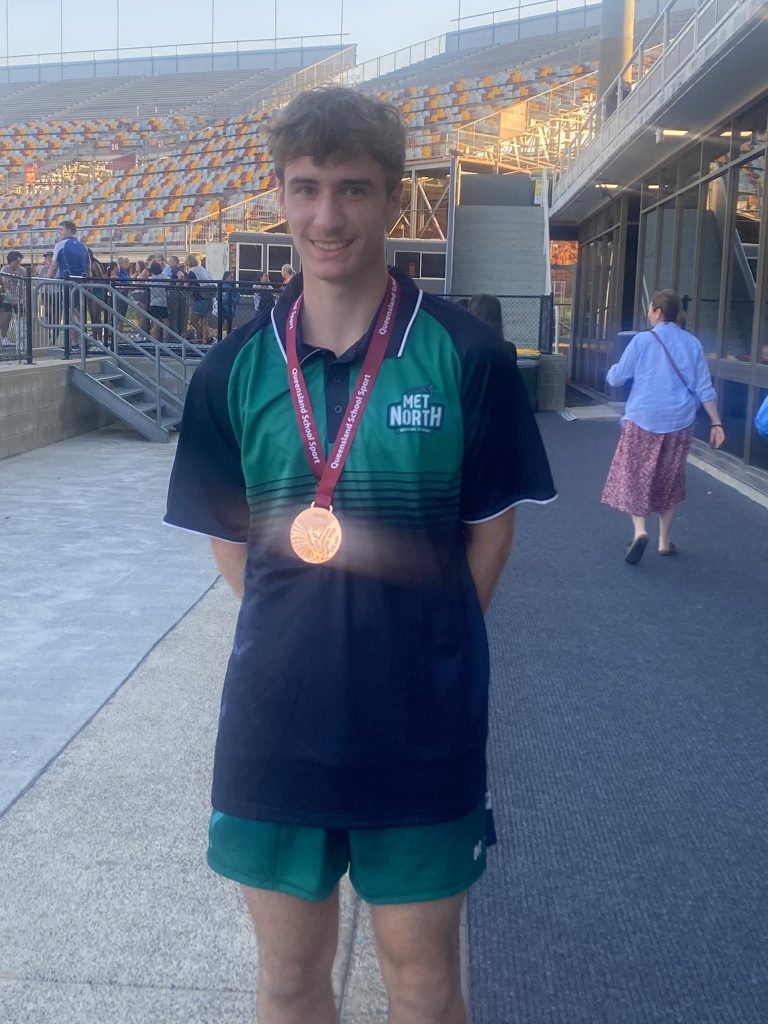 Rarely has the club had such a prolific medal winner across so many different events as Cristian Kuenzel who today added a Pole Vault Bronze with 3.30m to his Javelin Bronze from yesterday, adding to recent successes in major meets in High Jump, Long Jump and Decathlon. If that's not enough he also competes at State level in Volleyball.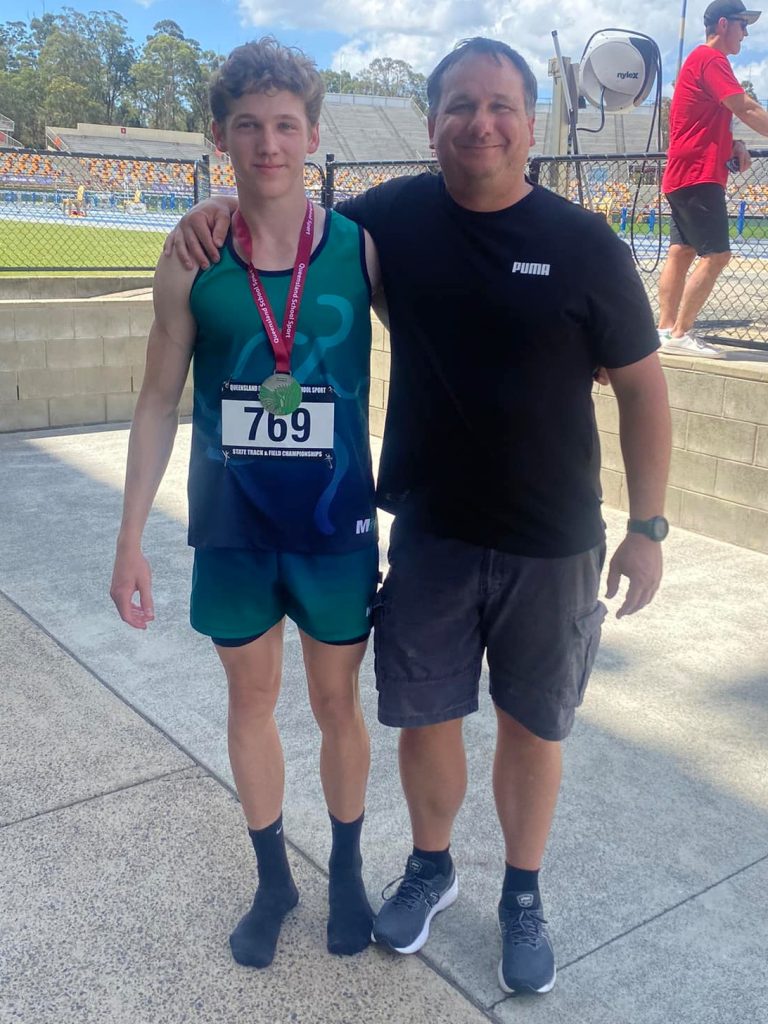 A rare display of exuberant emotion with a fist pump from Aidan Dallinger after a fourth round jump of 13.55m to claim the Silver Medal in the 17 years Triple Jump at the Secondary Schools Titles at QE2 today. Even more importantly, he eclipsed dad Brad's family record of 13.52m.
Brad still has some bragging rights left as the reigning Ashgrove Rangers Gift champion however it does appear that this effort of Aidan's may be re-enforced to Brad at future training sessions at The Gap High by multiple sources.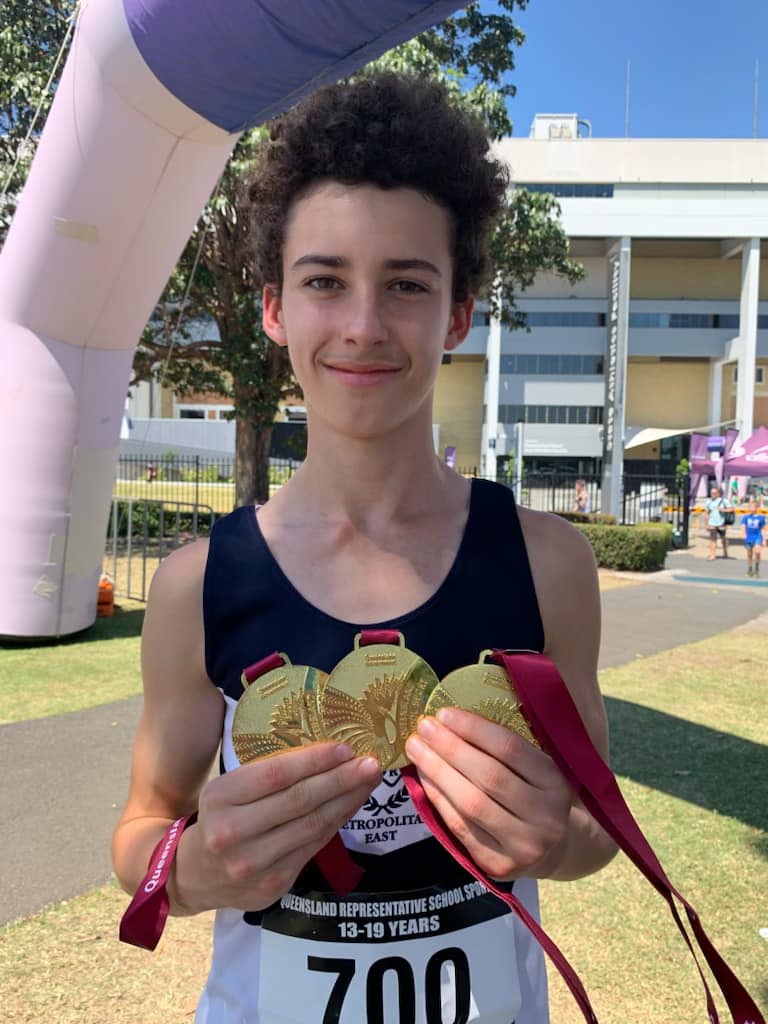 A very satisfying final day of competition saw some more fantastic results for our athletes.
Tate Van Camp secured the very rare 13 years 400/800/1500m Treble ending with a PB 400m of 53.24 with a Bronze also going to Connor Campbell in the 14 years 400m with a PB sub-53 second clocking.
Joel Drew also took Silver in the 17 years 110m Hurdles with 14.31.
In other 1500m Finals, Zel Van Loggerenberg ran well for 4th in the 13 years 1500m in a PB of 4:44.98, Sonny Adam produced another PB of 4:11.92 for 6th in the 15 years 1500m and Tully Schweitzer finished 9th in the 16 years 1500m 5:06.86.
In the 15 years Hurdles, Charlie Campion 4th in 13 years 90m hurdles, Isaac Ting was 4th in 25 years 100m hurdles 14.03 after a Gold in the 4 x 100m Relay, new recruit Joe Jackson 4th in the 16 years 110m Hurdles while Izzy Caminiti was 7th in the 15 years 90m Hurdles in 14.56.
Grace Dickson was 10th in both the 16 years Discus with 29.65m and Shot with 11.34m.
Here is a summary of our medal winners from the State Secondary Schools Titles:
Gold
Tate Van Camp – 13 years 400/800/1500m
Joel Drew 17 years 400m Hurdles
Lee Martin 17 years Shot Put
Haiden Boyd/ Isaac Ting – 15 years 4 x 100m Relay
Silver
Joel Drew 17 years 110m Hurdles
Katie Bray 15 years 3k walk
Aidan Dallinger 17 years Triple Jump
Connor Campbell 14 years 200m Hurdles
Bronze
Cristian Kuenzel 17 years Javelin/ Pole Vault
Connor Campbell 15 years 400m
Zel Van Loggerenberg 13 years 800m
These are fantastic results so congratulations to all of these athletes on all of your hard work and dedication. I would like to thank all involved in the State Secondary Schools meet at QE2 including all athletes, officials, coaches and parents for their sterling efforts over the four days at what was a very enjoyable meet.