VALE Ron Lambert (1926-2020)
It is with sadness that we report the passing of one of our earliest club members, Ron Lambert. Born in England on 2 August 1926, he passed away on 14 August 2020.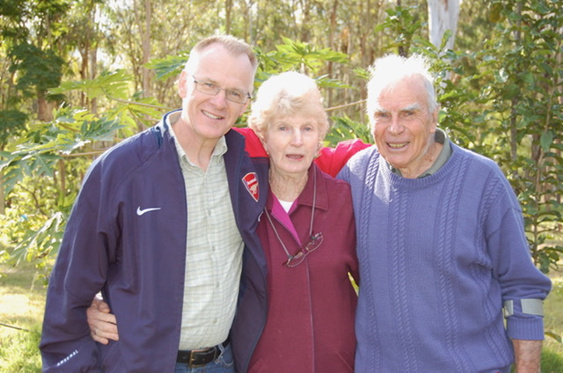 Ron is on the right with Ron's wife Muriel and former Club Captain Dennis Ferris who now lives in Canada.
Ron became a member by accident in 1969. When he was in his mid 40's he always ran through Dorrington Pk, (we thought he was too old to run) and we eventually convinced him to join us. Ron was quiet and unassuming and brought with him knowledge and experience that was invaluable to a young club with no experienced members. At the time, our oldest competitor was Don Stapleton, at 23. We always looked to Ron for his advice, guidance and support. Ron impressed upon us that if you wanted to be successful, you needed to be dedicated and consistent in your training, attributes which were also applicable in other areas of life He also said that as a distance runner you needed to do a long easy run one day a week, usually a Sunday morning. Speed was not important, it was just time on your feet, even up to 3 hours. He said this was like putting money in the bank and you used this credit during the week, when you did harder faster work.
Ron was club coach from 1969 to 1976 and was also our team manager for a time. He was so diligent that during the Caboolture – Maleny Road relay he recorded every mile run by each club runner. He had spent some time training under Arthur Lydiard in New Zealand and knew Lydiard's time schedules. Former Club Captain Dennis Ferris said "He was a great help to me in my early running days and a fantastic asset to the club for getting things done, such as marking Dorrington Park for our track and organizing training events. He was a genius with maths, and could rattle off splits, pace and calculate finish times".
Ron always ran with his medium sized dog, Patch. Patch probably ran twice as far as Ron, so was very fit. With Patch nearby, stray dogs never bothered us runners. Patch always took care of them.
We especially recall one Sunday run involving Patch. We planned a 20 km run on the undulating ridge line from Enoggera Reservoir. Ron had not been there for many years, I was still a teenager and I don't think Patch had been there before. We turned at the 10 km mark and we retraced our steps or so we thought. There had been some vehicular traffic during the week and we just followed the worn road. At one point we both realised, this was not the way we came. We ended up at Gold Ck Reservoir! Ron said, "don't worry about Patch. He will find his way home". Sure enough, Patch was sitting under the car waiting for us on our return. He was smarter than the average runner!
Ron's influence was still with the club long after he left the scene. He certainly had a big influence on me and many members who knew Ron will be indebted to him.
Graham Barralet
Member from 1965