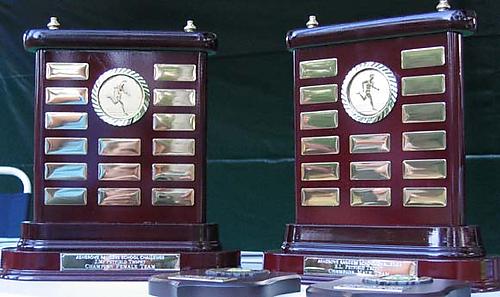 Petfield Shield School Cross Country Challenge 2018

Over 200 runners competed in the new 1km events and the 2km trophy races for the Petfield Trophy Primary Schools Challenge at Dorrington Park.
The atmosphere was absolutely electric with Mater Dei (girls) and Marist Ashgrove (boys) successfully defending their teams titles.
A big thanks to all the schools and helpers and in particular to Mrs Robyn Burke who acted as chief coordinator once again for a very successful event.
JM Petfield Shield – Girls 2km (Year 3 – 6)

Place
Time
Name
School
1
08:47.5
Olivia Bond
Mater Dei
2
08:49.8
Eva Barrie
St William's Grovely
3
09:02.4
Emily Allen
Mater Dei
4
09:10.2
Polly Jones
Ithaca Creek
5
09:16.1
Rosie Patterson
St Joseph's
6
09:19.9
Sarah Cunningham
St Ambrose's
7
09:20.8
Ava Myers
St Finbarr's
8
09:30.2
Eliza Martin
Ashgrove
9
09:32.0
Olivia Williams
St Joseph's
10
09:32.3
Lyla Stockwell
Ashgrove
11
09:36.4
Mia Callaghan
Ashgrove
12
09:37.2
Kahli Graham
Ashgrove
13
09:46.2
Kiara Pratt
Mater Dei
14
09:48.2
Emma Nunan
St Joseph's
15
09:55.2
Sophia Boyter
Ashgrove
16
09:57.1
Lucia Stachotta
Mater Dei
17
09:57.5
Phoebe Karamihas
Mater Dei
18
10:06.4
Elise Ryan
St Ambrose's
19
10:08.1
Poppy Carrick
Mater Dei
20
10:08.9
Isabella Hourigan
St Joseph's
21
10:09.9
Eliza Flanagan
St Joseph's
22
10:17.5
Stella Myers
St Joseph's
23
10:24.2
Sarah Spry-Bailey
St Ambrose's
24
10:33.9
Jenna Hilditch
Ashgrove
25
10:34.6
Imogen Mattiazzi
Ashgrove
26
10:36.0
Karmen Eilert
St Joseph's
27
10:36.2
Neva Thorn
St Joseph's
28
10:36.5
Charlotte Andrews
Ashgrove
29
10:36.8
Grier Elphinstone
Mater Dei
30
10:37.1
Willow Searles
Mater Dei
31
10:41.1
Lucca Davies
Ashgrove
32
10:42.4
Raphaela Evans
St Ambrose's
33
10:42.7
Erin Mansul
Mater Dei
34
10:51.6
Lucy Bright
Ashgrove
35
10:54.1
Josie Dent
St Ambrose's
36
10:56.4
Grace Braithwaite
Mater Dei
37
10:56.8
Sophie Hopkins
St Joseph's
38
10:59.4
Cate Taylor
Mater Dei
39
10:59.6
Rosetta Yoong
Ashgrove
40
11:07.9
Emily Davis
Mater Dei
41
11:12.7
Isabella Beasley
St Ambrose's
42
11:16.9
Daisy Lum
St Ambrose's
43
11:33.5
Alex Nunan
St Joseph's
44
11:38.2
Julia Pye
St Ambrose's
45
11:41.9
Isabella Payne
St Ambrose's
46
11:43.8
Choloe Axman-Friend
St Ambrose's
47
11:51.4
Elspeth Ambrose
St Ambrose's
48
11:55.4
Phoebe Kerr
St Joseph's
49
11:59.6
Isabella D'Allura
St Ambrose's
50
12:09.0
Zara Shaw
St Ambrose's
51
12:37.8
Olivia Ashman
St Ambrose's
52
12:38.0
Michaela McDonald
St Ambrose's
53
12:45.8
Rose Lewis
Ashgrove
54
12:56.4
Caitlin Jackson
Ashgrove
55
13:15.8
Hannah Daly
Ashgrove
56
13:17.9
Jessica Byrnes
Ashgrove
57
13:22.2
Elin Shultz
Ashgrove
58
13:59.7
Madison Huntley
Ashgrove
59
14:00.1
Jasmine Axman-Friend
St Ambrose's
Girls 2km Teams Result

Place
School
Points
1
Mater Dei
33 points
2
Ashgrove
41 points
3
St Joseph's
48 points
4
St Ambrose's
79 points
R Petfield Shield – Boys 2km (Year 3 – 6)

Place
Time
Name
School
1
07:50.4
Asher Parkin
Marist Bros
2
08:03.9
Cooper Cruise
Marist Bros
3
08:04.8
Tom de Luca
Marist Bros
4
08:08.0
Callan Jensen
Marist Bros
5
08:10.8
Callum Harris
Mater Dei
6
08:11.5
Lachlan Berwick
Marist Bros
7
08:23.1
Ryan O'Toole
Marist Bros
8
08:24.3
Lachlan Braithwaite
Marist Bros
9
08:25.5
Trenton Hastie
Marist Bros
10
08:28.1
Harry Prole
Mater Dei
11
08:30.4
Joseph Cervetto
Marist Bros
12
08:34.7
James Milner
Marist Bros
13
08:37.6
Eliot Aldridge
Marist Bros
14
08:38.6
Jack Riley
Marist Bros
15
08:38.9
Adrian Garbellini
Oakleigh
16
08:45.0
Jacob Cook
Marist Bros
17
08:46.6
Seb Gomez
Marist Bros
18
08:48.4
Henry O'Malley
Marist Bros
19
08:48.7
Luke Speed
Mater Dei
20
08:50.2
Sam Kelley
St Joseph's
21
08:51.2
Lachlan Davidson
Marist Bros
22
08:52.5
Sebastian Croke
Ashgrove
23
08:55.5
Lachlan Murray
Marist Bros
24
08:58.6
Jacob Caughley
Marist Bros
25
08:58.8
Jacob Keogh
Marist Bros
26
09:00.7
Lucas Shannon
St Joseph's
27
09:01.5
Harry Pruce
Ashgrove
28
09:03.2
Charlie Garton
Marist Bros
29
09:03.4
Hunter Guise
Our Lady of the Assumption
30
09:04.0
Ethan Bird
St Ambrose's
31
09:05.5
Jack De Maria
St Joseph's
32
09:07.4
Ryan Mullin
Ashgrove
33
09:09.1
Xavier Chessman
Marist Bros
34
09:10.3
Hugh Devine
Mater Dei
35
09:12.0
Hugo O'Sullivan
St Joseph's
36
09:15.1
Clancy Barrett
Mater Dei
37
09:15.9
Harry Frost
Marist Bros
38
09:16.3
Riley Roberts
Ashgrove
39
09:16.8
James Henry
Marist Bros
40
09:21.4
Owen Bourke
Marist Bros
41
09:22.3
Riley Hansel
St Joseph's
42
09:22.5
Cooper Chugg
Mater Dei
43
09:24.3
Owen Aldridge
St Ambrose's
44
09:25.2
Liam Huntley
Ashgrove
45
09:25.7
Max Macreably
Marist Bros
46
09:27.4
Daniel Thirgood
Mater Dei
47
09:27.7
Jack Purcell
St Ambrose's
48
09:28.4
Darren Roberts
Ashgrove
49
09:29.6
Oliver De La Cruz
Mater Dei
50
09:30.7
Reilly Keogh
St Joseph's
51
09:31.8
Elliot Gomez
Mater Dei
52
09:32.0
Indiana Hendrick
St Joseph's
53
09:33.7
Luke Ferguson
St Ambrose's
54
09:34.2
Aiden Phillips
Marist Bros
55
09:37.8
Sam Somerville
Ashgrove
56
09:38.6
Axel Benjamin
Ashgrove
57
09:39.3
William Easter
Mater Dei
58
09:40.1
Ted Clark
Marist Bros
59
09:41.1
River Cheetham
St Ambrose's
60
09:41.9
Max Rainbow
Mater Dei
61
09:42.8
Ethan Schulz
Ashgrove
62
09:45.1
Will Lambley
St Joseph's
63
09:46.3
Harvey Schulz
Ashgrove
64
09:47.7
Isaac Deem
Marist Bros
65
09:51.4
Blake Parker
Marist Bros
66
09:54.6
Ike Rowland
Mater Dei
67
09:55.5
Patrick Travers
Mater Dei
68
09:56.3
Oliver McCahon
St Joseph's
69
09:57.3
Connor Gleeson
St Joseph's
70
09:57.8
Finn Manahan
Mater Dei
71
09:59.2
Will Lewis
Ashgrove
72
09:59.8
Jack Brumby
Mater Dei
73
10:00.3
Joseph Hogan
St Ambrose's
74
10:00.6
Lincoln Stockwell
Ashgrove
75
10:01.8
Archie Powell
St Ambrose's
76
10:10.1
George Haling
Mater Dei
77
10:14.3
Joseph Lohse
Mater Dei
78
10:15.0
Ben Flanagan
St Joseph's
79
10:18.1
Conor Morahan
Marist Bros
80
10:19.4
Elliott Gillman
Ashgrove
81
10:20.5
Julian Lewis
Ashgrove
82
10:21.0
Hugo Stafford
St Ambrose's
83
10:22.0
Josh Mason
Marist Bros
84
10:23.2
Van Sanders
St Ambrose's
85
10:27.2
Bailey Ashman
St Ambrose's
86
10:28.0
Sam Mapledoram
St Joseph's
87
10:29.1
Hugh Ambrose
Mater Dei
88
10:29.4
Ned Quinn
St Joseph's
89
10:29.7
Jake Davidson
Marist Bros
90
10:32.8
Sam Robertson
Ashgrove
91
10:35.6
Fletcher Byrnes
St Ambrose's
92
10:43.2
Harry McAuliffe
St Joseph's
93
10:46.7
Bodhi Fox
Mater Dei
94
10:57.7
Daniel O'Keefe
Mater Dei
95
11:03.2
Hugo Dilane
St Ambrose's
96
11:04.9
Toby Doolan
St Ambrose's
97
11:05.3
William Beaton
Mater Dei
98
11:08.1
Callum Hatherley
St Ambrose's
99
11:09.1
Max Caughley
Our Lady of the Assumption
100
11:09.9
Loye Grayson
St Ambrose's
101
11:22.5
Ryan Browne
St Ambrose's
102
11:29.4
Henry Page
St Ambrose's
103
11:31.9
Mitchell Spence
St Ambrose's
104
11:45.1
Aiden Whitta
St Ambrose's
105
12:08.3
Cooper Ball
Marist Bros
106
12:10.4
Miles Peacock
St Ambrose's
Boys 2km Teams Result

Place
School
Points
1
Marist Bros
10 points
2
Mater Dei
68 points
3
St Joseph's
112 points
4
Ashgrove
119 points
5
St Ambrose's
173 points
Girls 1km (Prep – Year 2)

Place
Time
Name
School
1
04:13.7
Kate Bond
Mater Dei
2
04:24.9
Mia O'Sullivan
St Joseph's
3
04:33.3
Lucy Page
St Ambrose's
4
04:35.9
Evelyn Lamers
St Ambrose's
5
04:36.8
Grace Petersen
Mater Dei
6
04:37.7
Ellie Hicks
Mater Dei
7
04:38.3
Annabel Kelley
St Joseph's
8
04:42.8
Rubie Lynn
Mater Dei
9
04:45.9
Kate Purcell
St Ambrose's
10
04:48.7
Amelie Kramer
Mater Dei
11
04:51.5
Sylvie Roase
St Joseph's
12
04:52.9
Stella Shaxson
St Ambrose's
13
05:01.8
Lucy Phillips
Mater Dei
14
05:04.1
Lucy Ferguson
St Ambrose's
15
05:06.7
Isabella Manner
Mater Dei
16
05:12.8
Lara Gooley
St Joseph's
17
05:15.4
Eloise Horan
Mater Dei
18
05:17.1
Annabel Grant
St Joseph's
19
05:28.8
Eve Carrigan
St Ambrose's
20
05:32.4
Summer Jackson
Ashgrove
21
05:38.9
Emily Byrnes
Ashgrove
22
06:27.5
Isabella Kelly
St Ambrose's
23
06:41.3
Neve McGibbon
St Ambrose's
24
07:22.8
Hannah McDonald
St Ambrose's
Boys 1km (Prep – Year 2)

Place
Time
Name
School
1
04:08.0
Ben Mattiazzi
Ashgrove
2
04:08.9
Willem Ferguson
St Joseph's
3
04:23.6
Thomas Shaxon
St Ambrose's
4
04:23.9
Jacob Lamers
St Ambrose's
5
04:24.6
Jamieson McGahan
Mater Dei
6
04:30.2
Caleb Dickson
Mater Dei
7
04:32.5
Eli Miles
Mater Dei
8
04:34.5
Jack Davis
Mater Dei
9
04:35.0
Reilly Keane
St Joseph's
10
04:37.6
Matthew Dilane
St Ambrose's
11
04:41.8
Aidan Mansul
Mater Dei
12
04:42.1
Tom Abbott
Ashgrove
13
04:44.3
Oliver Blakemore
Mater Dei
14
04:44.9
Isaac Segon
St Ambrose's
15
04:45.4
Wilson Ambrose
St Ambrose's
16
04:50.0
Harry Cleary
Mater Dei
17
04:53.1
Timothy Mulholland
St Ambrose's
18
04:58.4
Eddie Mitchell
St Ambrose's
19
04:59.3
Matthew Travers
Mater Dei
20
04:59.9
Lewis Croke
Ashgrove
21
05:00.5
Rhys Doonan
St Ambrose's
22
05:02.4
Joseph Schulz
Ashgrove
23
05:04.1
Noah Waterson
St Ambrose's
24
05:04.4
Harvey Harris
Mater Dei
25
05:04.7
Angus Swinton
St Ambrose's
26
05:04.9
Harry Payne
St Ambrose's
27
05:09.9
Luka McDonald
Hilder Rd
28
05:23.0
Joshua Daly
Ashgrove
29
05:36.3
Nathan Lee
St Ambrose's
30
05:44.3
Oliver Petrie
St Ambrose's
31
07:12.8
Noah McDonald
St Ambrose's