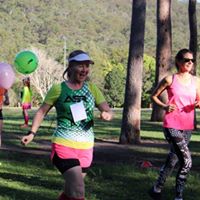 Member Profile – Deb Davis
Deb Davis…
Why do you run / How long have you been running for?
I started as an adult, never having run at school. I soon discovered how enjoyable running is and ran on and off for many years, mainly just jogging for fun. About 10 years ago, I started to learn about running properly using various forms of training and began to take part in events.
Which events have you participated in over the last 12 mths?
Ashgrove Rangers Flying Four
Brisbane Road Runners Club Championship Series (7 races over the year ranging from 5k to Half Marathon)
QA Cross Country events
QA Relay Championships (Masters 4x1500m)
Parkrun
TRAQ Trail Run at Lake Manchester
Do you have any upcoming events or goals that you're looking to achieve?
I'm thinking of doing the Sunshine Coast Half Marathon in August, I'd like to do more cross country events and, of course, complete the last four events in the BRRC series. There is also a nice trail run around Enoggera Reservoir in July, and possibly the big road relay in November.
My overall goal this year is to improve on my last year's times for all events. And of course, the main goal is to keep running and enjoying it for as long as possible.
What is your Favourite Event? Why?
It's very hard to pick a favourite, but I tend to avoid the really big races like Gold Coast in preference for smaller events.
What does an average training week for you look like?
Monday evening Ashgrove Rangers  training (drills and technique)
Tuesday morning an 8 – 10 km run (when work allows)
Thursday morning 6 – 8 pairs of short hill repeats
Thursday evening Ashgrove Rangers training – (threshold/interval session)
Saturday morning parkrun
Sunday morning either a long, 15 – 17km hilly run around Ashgrove or a Brisbane Road Runners race  of 10 – 20 km