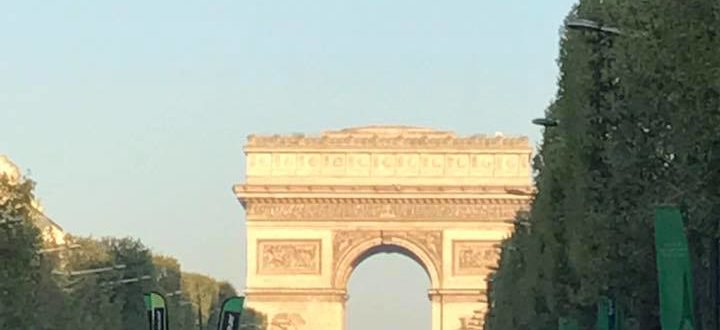 Event Report – Paris Marathon
Event: Marathon de Paris
Location: Paris, France
Date: 9 April 2017
Distance: 42.2 kms
Competitors: 42,000
Behind me is the Arc de Triomphe, in front of me is the Champs-Elysees. I'm standing at the start line of the Marathon de Paris along with 42,000 other competitors. The conditions are near perfect, it's cool, about 15 degrees and the sky is cloudless. It's going to be a beautiful day. I feel relaxed; I'm looking forward to the run. I've adopted the attitude of just aiming to enjoy the experience so there's no pressure on me to run a PB or to finish within a certain time yet I still feel quite nervous.
My prep hasn't been as good as it should have been. My average weekly kms was low, just 22 kms on average over the past 12 weeks, my biggest week was only 48 kms and my longest run was only 28 kms. On top of that my nutrition strategy of having very few carbs during an event didn't go well last time out. I completed a half iron man about 6 weeks ago and blew up badly on the run. Nevertheless I was sticking to my plan so whilst everyone around me was brandishing gels I was armed with a mere 20 jellybeans.
I'd been in Paris for a week with my partner. We've explored the city and the surrounding regions, eaten too much, drank a little too much and got engaged. It was a big week but now there was just one more thing to do and that was to run this marathon.
The atmosphere at the start line was electric. There were lots of spectators seeing the runners off, there was aerobics instructors leading the warm ups and the announcer was doing his best to get everyone in the mood. With 1 minute to go we all came together as one mass and surged towards the start line. The count down began then the siren sounded and we were off. The Champs-Elysees was ours.
The first 10 kms went by relatively quickly and after easing into my stride over the first couple of kms I was feeling relaxed and enjoying the sights. I'd been sitting around 4:50 kms, which is what I was aiming for. I'd had 2 jellybeans at the 5km aid station and another at the 10km station. There were aid stations every 5 kms so I framed the race as a set of eight 5 km runs. I still haven't mastered the act of drinking and running so I made sure that I walked through every aid station. This allowed me to give my legs a break, eat my jellybeans and collect enough fluids.
Another 10 kms down and I'd reached the halfway mark. I was feeling good. I'd manage to stick to 5min kms. The majority of the last 10 kms had been through parkland (Bois de Vincennes). There were fewer spectators but it was nice running through the gardens, past the old Parisian buildings and the trees provided a degree of protection from the sun. The course left the gardens and worked its way along the Seine River.
I hit 30 kms and to my surprise was still feeling quite good. The route was dotted with bands, musicians playing drums and cheerleaders which seemed to spurred you on just when the going was getting a little tougher. I soon pasted through 35 kms and while the quads were really starting to hurt I still felt relatively good. My pace had slipped towards 5:30 mins per km and I was taking longer to walk through the aid stations but I knew that I only had 7 kms to go. I thought back to Monday night training at The Gap High School. 7 kms is just two laps around the block, I knew that I could do that.
Soon enough I was down to just 5 kms to go, just one park run and I'd be done. It was a bloody hard park run though. Quite a few runners had slowed down to barely a walk. I ran through the 40 km mark and could sense the finish. Only 1200m to go. At some point the course become barricaded off, the spectators were 5-6 deep and the level of cheering was electrifying. I could see the finish line and made one last dash for it. I crossed the line with an official time of 3:41:18. I collected my medal and finisher shirt then picked up some fruit and fluids. I had survived the 42.2kms, saw parts of Paris that I hadn't seen before and done it all on 15 jellybeans. I was very happy.