The Club organises a series of events throughout the year as well as encouraging participation in non-club events across track & field, cross country and road races.

QLD Track Relay Championships
Event Navigation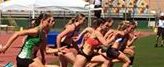 Queensland Track and Field Relay Championships for all age groups from Under 14 to Masters.
Athletes can compete off a base membership across many junior and masters age categories. Last year the Club had about 45 athletes compete and finished fourth overall behind QE2, Ignition and Gold Coast in an event that was hotly contested. It was probably the Club's best track and field performance ever so we will be looking to once again match that fantastic effort.
Any queries please contact John Purcell