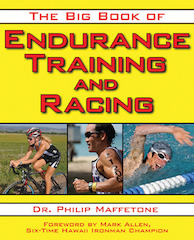 Book Review – Big Book of Endurance Training & Racing
The Book:
The Big Book of Endurance Training and Racing
By Dr Philip Maffetone / Published by Skyhorse Publishing
The Verdict:
A must read for any endurance athlete concerned with staying injury free or anyone that feels they're reached a plateau in their performance 
I read this book some time ago after a friend wouldn't stop talking about the author and it's not an understatement to say that it has totally changed the way I train. Everyone is different and the training principles and theories in this book are not mainstream and may not suit everyone. I've followed them for about 18 months and I've noticed a material improvement in my performances.
The book itself is an interesting read from cover to cover however my level of interest did wane as I made my way through it. The book is broken into three sections – "Building Your Endurance Foundation", "Diet and Nutrition" and "The Importance of Self-Care and Injury Prevention". It was the first two sections that I found to be the most interesting as the material challenged my perceptions, understanding and training methods.
The first section talks about your Aerobic and Anaerobic systems, how to develop your maximum aerobic function (MAF) and the issues with overtraining – in regards to both injury and performance. It basically discourages the no pain no gain, lots of high heart rate training philosophy for one that involves less training with the majority of training at low heart rate levels. So basically, less training at a lower intensity. The second section dealt with the influence of diet and nutrition on your body and athletic performance, the issues with a high sugar / carbohydrate diet and the virtue of fat as your body's main fuel source. The message is eat less carbs, forget the gels and train your body to burn fat when you're exercising. The third section touches on self-care and injury prevention. This section was still interesting but probably less challenging so i found myself skimming through parts of it.
Overall, I would recommend this book to anyone looking to challenge their current training methods or even just consider a different point of view with regards to training and diet even if you only read the first two sections.
Rating: 4 / 5