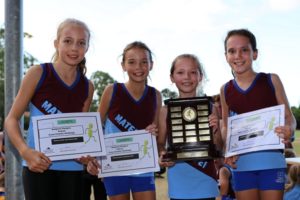 There's lots of different forms of athletic events held in Brisbane each year, but for pure atmosphere, the Petfield Challenge event which Ashgrove Rangers conducted today for local Primary School teams at Dorrington Park is hard to beat.
The one kilometre loop course on which the 2k cross country events for girls and boys takes place gives parents and fellow school students full opportunity to offer their support as runners come round after the first lap in front of the Norths Hockey clubhouse at Dorrington Park.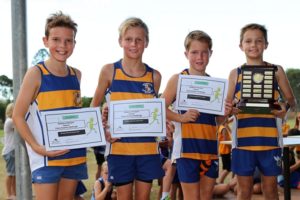 Today's event with just under 100 competitors saw last year's champion schools in Mater Dei (girls) and Marist Ashgrove (boys) defend their titles. In fact the Mater Dei girls team achieved the perfect team score with a 1-2-3-4 set of placings over the line and they provided a powerful example of team running up front which was a bit reminiscent of what we have seen from some of the African nations in major Cross Country events over the years.
Thanks also to the teams from St Joseph's, Bardon and Ashgrove State School who provided the majority of the other runners including some strong individual performances with a St Joseph's runner taking the boys race outright.
The trophies for the event honour the memory of the late Ron and Joyce Petfield who were instrumental in the foundation in 1962 and successful running for over 40 ensuing years of the Ashgrove Rangers club with Joyce coaching junior athletes at Dorrington Park.
Trophies were presented by Mrs Robyn Burke, from Ashgrove State School whose organisational skills play a large part in making this event a success each year. Robyn and her family have made major contributions over many years to sport in the Ashgrove area especially through Ashgrove Rangers and Norths Hockey Club and we would like very much to thank Robyn for her efforts today.